Home / Business Migration
Assisting With The Migration Of Your Business
Owning a business is a unique experience. Whether you are hands-on with the everyday operation of your company or have taken a back seat to enjoy the fruits of your labor, you are likely familiar with the many challenges and opportunities that arise in business. One such challenge is business migration. Though this may not be a familiar term, it encompasses a set of circumstances that often occur in business. Because our country has the privilege of individual state governments, moving or expanding your business to a different state can leave you in a unique
legal situation
. There are many changes and updates you need to make, both professionally and legally, before you can begin working in your new location. Lobb and Plewe's business migration practice aims to help make these transitions easier and provide comprehensive, reliable legal services no matter where you bring your business.
Choose The Business Consulting Services Of Attorneys Lobb & Plewe
Here at Lobb & Plewe, we take pride in being the area's premier business migration lawyers. We offer comprehensive business migration services that can benefit your changing business and ensure a smooth legal transition to your new location.
Our Business Migration practice group provides closely held companies with the tools they need to take full advantage of the benefits afforded by every state. Whether you want to live in one state but work in another, expand into another state, or simply move your existing business to a new state, we have the experience you need to do it right the first time.
Common Business Migration Issues
As owners and operators of closely held businesses already know, a host of regulatory, tax, and operational legal issues affect the day-to-day and long-term administration and development of your business. Failing to properly plan and protect yourself from these complex issues can result in significant adverse legal consequences. Some common roadblocks include:
Forming a new LLC
Dissolving your old LLC
Building credit with a new tax ID
Contending with multiple business locations and states
Domesticating your LLC
Registering property in your new state
Lobb & Plewe, LLP offers comprehensive legal services for businesses and business owners to ensure you are prepared to effectively navigate any of these issues. Business consulting is a crucial part of how we help our clients successfully expand their businesses, so we make sure to inform you of your options and help you determine the best course of action for you and your business. We have a long and successful history of protecting our client's interests and placing them in the best possible situation for long-term financial success and security. What's more, our expertise does not end at the state lines.
Our Legal Group Does Things Differently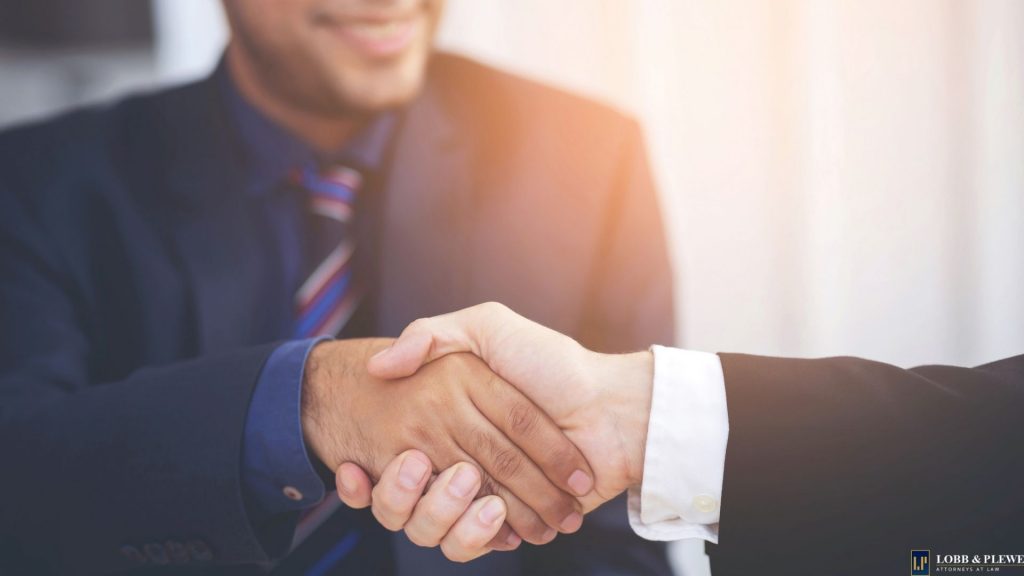 At Lobb & Plewe, we have noticed that many attorneys do not dedicate the time and attention to business migration that is necessary to help the businesses thrive. When you work with us, you can be sure that we will see things through until the end. After deciding to migrate most or all your business to a new state, most lawyers wish you luck and send you packing or, at best, suggest a referral. In contrast, Lobb & Plewe, LLP's business migration practice group guides you seamlessly through every stage of the transition. This means that you have the same group, instead of two firms, handling both the emigration and immigration, which significantly reduces legal costs and prevents important items from falling through the cracks.
Additionally, you are also leaning on the professional experience of a group that, in recent years, has handled business and business owner migration issues involving transitions to and from California, Texas, New York, Nevada, Arizona, Idaho, Tennessee, Missouri, Oklahoma, and Utah.
The 3 Categories of Business Migration
In our experience, business migration falls into three specific categories. These classifications act as a guide for your plan of action, depending on which category you fall into. Although these groupings may help to begin the process, it is important to understand that each situation is unique. Our business migration lawyers will always take the time to listen to your business's unique needs and devote careful time and attention to helping you meet them.
Restarting In A New State
The first category of business migration consists of businesses making a clean departure from their existing home base and moving their entire operation to another state. In such instances, the legal migration issues include, but are not limited to:
Wrapping up all contracts (leases, vendor contracts, etc.) in the base state
Corporate structuring in the new state
Regulatory compliance in both the outbound and inbound states
Negotiating contracts in the new home state
Handling all severance issues as necessary in the existing base state
Tax planning as it relates to every item of the move
This is a significant number of tasks that require careful attention. A lot of money can be lost by not properly planning the transaction, and the last thing you want for your changing business is to begin your new endeavor unprepared.
Our services at Lobb & Plewe help to create a more reliable, stable transition for businesses fully relocating to new states. We provide estate planning, asset protection, and tax planning for the owners of the company as it relates to the laws of the new venue. An endless number of possible setbacks await the client who fails to prepare and implement a comprehensive plan, which is why our  business migration lawyers work closely with you to create a moving system that covers all your bases.
Expanding to A New State or States
Not all businesses want to close their existing locations and move to another state. In some scenarios, the business is simply growing and expanding, which requires a unique set of rules and actions to ensure success. These migrations may be a prelude to a full-scale migration of the company, as described in the above category, or simply a strategic move.
Lobb & Plewe understands this type of migration intimately, as we completed such a strategic move to Nevada for our own business. Again, contractual, corporate, regulatory, employment, and taxation issues are in play. Although business owners may not be contemplating a physical, personal migration, our practice group will counsel them about their opportunities to migrate assets for asset protection and tax planning purposes. Owning a business has very distinct consequences for your personal assets, so we always make sure you understand what needs to be done to protect yourself and your business.
The Business Stays, The Owner Moves
In some situations, the owner of a business no longer needs to live in the same location. This can occur for a myriad of reasons, including delegating, company growth, or a hands-off approach. The third category focuses on an owner's personal migration to another state without the business moving. This type of migration comes in many forms and may or may not include the owner establishing residency in another state.
It is possible for an individual to take advantage of some laws in other states to enhance their asset protection and estate plan and, in some instances, shift state tax burdens to a more favorable venue. Again, it is important to protect and maximize your personal financial situation while also encouraging your business to thrive. The services for this category necessarily involve complex estate planning expertise, tax analysis, asset protection services, and a focus on ownership succession.
Why An Attorney Is Necessary
As you can see, the process of moving your business, or moving while owning a business, can be incredibly tricky. There are several different scenarios, all of which require a specific set of actions to ensure protection and appropriate legal action. Attempting to make these moves without the help of experienced  business migration lawyers poses many serious risks. In doing so, you open yourself and your business to extreme liability. If you operate in another state without following proper procedure, you can face fines, shutdowns, and even jail time. Because the stakes are so high, it is always best to have an attorney on your side. Lobb & Plewe can help to make sure that your move is above board and your business is set up for success.
There are various reasons that a company may choose to migrate or expand to a new state. While some of these decisions are personal, most have to do with recognizing the market potential of the new location. This entrepreneurial spirit is one of the leading causes of business migration and is the backbone of what we do at Lobb & Plewe.
Currently, the majority this practice group's activity involves companies leaving California for other states and companies moving to Nevada and Texas. A recent survey conducted by the firm revealed the three most pressing concerns for California businesses are employee liabilities, regulatory issues, and state and local taxation. If you have these concerns and have not contemplated business migration, consult with our group to learn your options.
Contact Lobb & Plewe, Attorneys at Law
If you are considering a move or expansion for your business, make sure that you do it safely and legally with assistance from Lobb & Plewe. Our business migration lawyers can protect you from accusations of fraud, tax issues, and many more roadblocks that can ruin a business. We have helped hundreds of businesses successfully migrate, and we would be happy to do the same for you. Rather than searching for a "small business lawyer near me," trust the firm that has successfully practiced in this arena for years.
For more information about our services, please contact us online today.
Subscribe for our monthly newsletter to stay updated