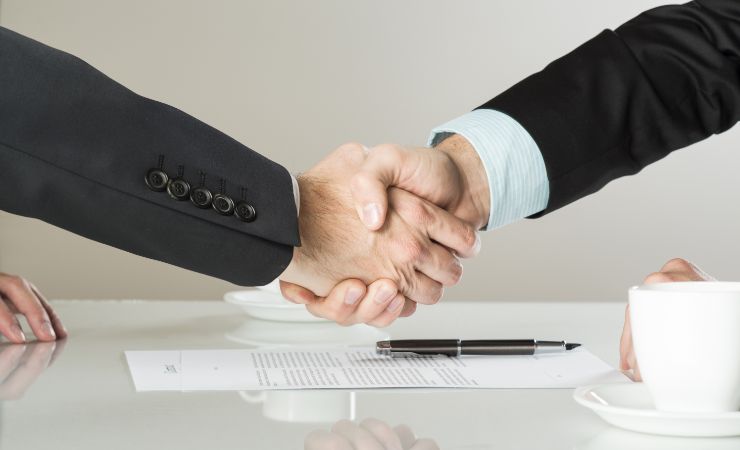 The most recognizable type of law is found in court, with two or more parties battling against each other to come out on top in the case. However, there are many facets to the law and just as many types of lawyers to handle those areas. Many of these areas of law will not typically involve a courtroom. One of these areas is transactional law, a branch of particular importance to business owners. Transactional law governs contracts concerning business transactions between individuals or businesses, including the formation, interpretation, and dissolution of those contracts.
Transactional Law
A transactional agreement is a contract where two or more parties exchange mutual promises or performances for a desired outcome. Transactional law involves the contracts that are inherent in many areas of business and trade. Because businesses and individuals can require a wide range of agreements or contracts, all with different regulations, this area of law is particularly broad.
Types of Transactional Law
There are many areas covered by transactional law, each with its own legal issues. A few basic branches of transactional law include:
Corporate Law:
This branch of law is focused on the formation and management of entities. Since there are many different types of entities, choosing the right one for your business may require consultation with a corporate law attorney. Failing to set up the corporation correctly can be expensive and result in complicated delays. Other areas of corporate law include business planning as well as the drafting and review of company agreements.


Business/Commercial Law:
This area of law pertains to the wide array of transactions that affect businesses. After a business has been created and begins operating in commerce, there are regulations that must be followed. There are different sets of laws for different types of companies, and ensuring legal compliance is important to an effective business strategy. Topics covered under business and commercial law include corporate finance, franchising, confidentiality agreements, and business transactions. It also concerns employee relations, like nondisclosure agreements, non-compete agreements, and confidentiality agreements.


Intellectual Property (IP) Law:
This branch of law involves intellectual property rights that are attached to creative expressions like trademarks, inventions, and copyrights. Protecting your property is important, and understanding these laws is the best way to ensure it remains yours. Even general business transactions can affect IP rights, so consulting with an expert is the best way to maintain your rights. Licensing agreements, rights of publicity, trade dress, trade secrets, and patents also fall under IP law.


Entertainment Law:
This area of law is related to the entertainment industry. Because the entertainment industry includes many different businesses, like sporting events, film, and music, entertainment law can be incredibly complex. Ensuring that you follow the laws relevant to your specific company requires expert advice from attorneys in your field. Royalty agreements, financing agreements, custom appearance releases, development agreements, and production contracts fall under the entertainment law scope.
Benefits of Hiring a Transactional Attorney
There are many key benefits that a transactional lawyer will deliver to a business or individual:
Minimize Risk:
An experienced transactional attorney can predict problems that could potentially arise. They can advise their clients on the best routes to avoid both those problems and any liability.


Attorney-Client Privilege:
All discussions, whether written or oral, between a client and their attorney are entirely confidential. These interactions are protected, even in the case of litigation. These same protections do not extend to other professionals, like consultants.


Reduce Transaction Costs:
Protecting your interests and your finances is much easier when there is a skilled attorney at your back. The entities you are going into business with are less likely to take advantage of you, as their actions will most likely be caught by a transactional law attorney.
FAQs
Q: Who Needs a Transactional Attorney?
A: Many different kinds of people may need a transactional attorney in their lifetime. These lawyers specialize in:
Real estate deals
Forming companies
Creating employee agreements
Negotiating contracts
Protecting intellectual property rights
Assessing overall legal compliance
Although it may be possible to handle any of these areas without a lawyer, they can provide peace of mind by ensuring fairness and assuring legality. Their experience with the type of contract that you need to complete can help guarantee that your deal results in the best-case scenario.
Q: What Is the Difference Between Transactional Law and Litigation?
A: Transactional law focuses on the agreement between two or more parties and seeks to avoid disputes that may arise while conducting business. Contrarily, litigation occurs in courts, with a party facing an opponent and attempting to win through a court victory. Any and all legal matters can go through litigation, and the opposing legal teams attempt to persuade the judge or jury to take their side.
Q: What Do Transactional Attorneys Do for Their Clients?
A: Transactional attorneys spend their time drafting different contractual agreements for their clients. These contracts can include, but are not limited to, agreements pertaining to:
Stock purchases
Independent contractors
Employment law
General services
Nondisclosure
Data privacy
Transactional attorneys also review and negotiate various agreements, ensuring that contracts that you enter into cannot be harmful to you or your business. Drafting business policies, such as a terms of service agreement, falls under their purview as well.
Q: What Are Examples of Transactional Law?
A: Transactional law covers many different areas and can be relevant for many people and their businesses. It has relevance in several industries, including entertainment, commercial, corporate, and intellectual property. Within these industries, there are many applications of transactional law. These include:
Royalty agreements
Production contracts
Franchise agreements
Employment agreements
Company formation
Copyright filing
Transactional Law With Lobb & Plewe
Choosing an attorney that has experience with your particular needs can make a difference in the outcome of your agreement. Lobb & Plewe has been handling transactional law cases for almost 30 years to protect the rights and finances of our clients. We have a strong reputation for achieving positive results. Reach out today for a consultation so we can discuss your case and help you with your legal needs.