Las Vegas Estate Planning Lawyer
Home / Las Vegas Estate Planning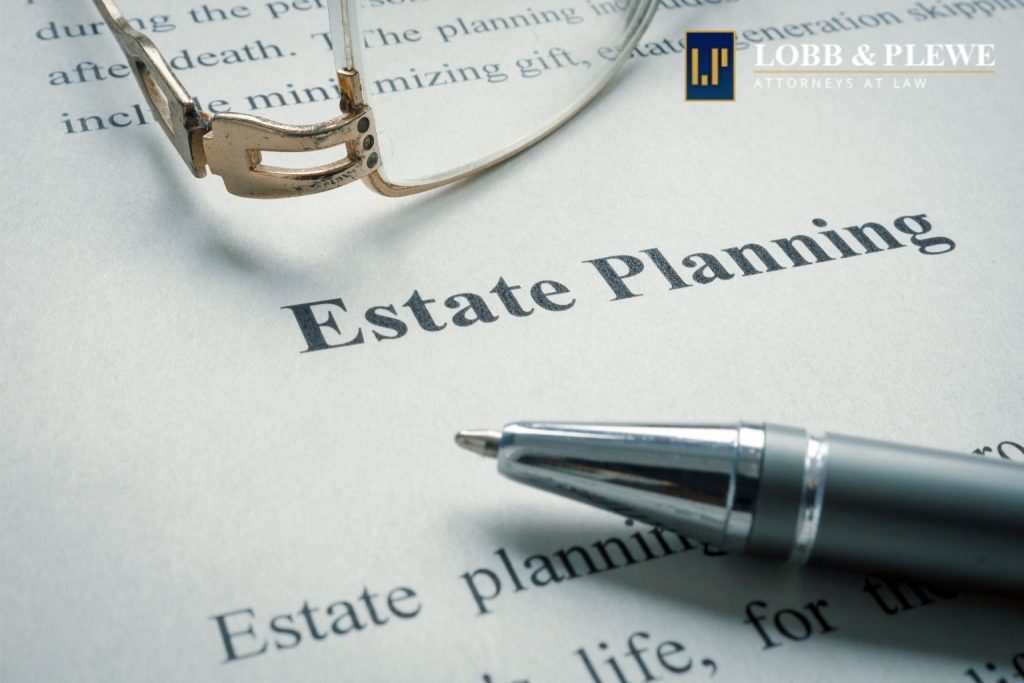 Las Vegas Estate Planning Attorney
Thinking about the details of your future can be daunting, which is why so many people in Las Vegas tend to put it off. However, it's imperative that you have a documented estate plan in case something ever happens to you. Estate planning is a legal process that helps individuals outline their final wishes, protect their assets, and ensure that their loved ones are cared for when they can no longer do it. Creating an estate plan is a protective measure that all Nevada residents should take, regardless of how valuable their assets are. 
Lobb & Plewe: Your Las Vegas Estate Planning Attorneys
Whether you're trying to form a trust or you'd like to create an estate plan that designates guardians for your children, it's important to discuss your exact needs with an accomplished estate planning firm. At Lobb & Plewe, our law firm is composed of skilled estate planning, business, and intellectual property lawyers. This gives us a distinct advantage when helping our clients protect their assets properly. With decades of combined experience and insight into effective legal strategies, our team at Lobb & Plewe provides estate planning services that help our clients feel empowered about their future. 
Estate planning is the legal act of documenting your final wishes and protecting your assets. By creating an estate plan, you leave legally binding rules for individuals to follow during probate after you pass away. An estate plan can address a variety of important subjects, ranging from personal funeral wishes to durable power of attorney assignments. They are used to ensure that the last wishes of an individual can still be carried out when they are no longer here. However, this doesn't mean that estate plans can't be used while an individual is still alive. For example, many people form living wills that state their preferences for certain medical treatments if they become incapacitated.
What Should You Include in a Nevada Estate Plan?
All estate plans vary from each other. This is because each person decides what documents to include and what topics to address, depending on their wishes. If you're not quite sure what to include in your plan, feel free to discuss your options with our attorneys at Lobb & Plewe. The following are common documents and topics that Nevada residents often include in their estate plans:
Some Form of a Will
In most scenarios, people choose to use a will as the foundation of their estate plan. Wills can address multiple sensitive subjects within just one document, making the overall estate planning process a bit easier for those going through it. If you create a last will and testament, you generally include your wishes for asset distribution, a designated executor of your estate, and important decisions, like guardianship designations. You can also choose to use other wills, such as simple or living wills. 
A Trust
Trusts work much differently than wills but can still be included in an estate plan. When an individual creates a trust and puts assets into it, they sign over their ownership to the trustee when their agreement becomes active. The trustee is then in charge of managing and protecting that trust according to the terms that the grantor created. For example, if you decide that your assets cannot be distributed until you pass, your trustee will protect those assets for years until it's the proper time to divide them.
Designation of Assets and Their Beneficiaries
You work hard to collect valuable belongings and assets throughout your life. Through the power of an estate plan, you can help protect those assets, even when you're no longer here. If you did not already list them in a will, you should document exactly how you want your belongings divided among your heirs. Take the time to deeply consider all your assets and each person whom you would like to receive them. Then, create a document or simple will to make those wishes legal.
Durable Power of Attorney
A durable power of attorney is an essential element to add to any estate plan. In this document, you assign a trusted loved one or friend to act on your behalf if you become incapacitated. While no one hopes that they're ever in a place where they can't speak for themselves, documenting who you want to hold durable power of attorney can help protect you in the future. The individual who you give a durable power of attorney to will be able to make decisions on your behalf regarding your finances and business matters.
Personal and Funeral Wishes
While there are plenty of legal elements to address in your estate plan, it's important that you don't forget your own desires. If you have any personal wishes or specific preferences for your funeral, you should detail them all in your estate plan. If you have a will, you will most likely be able to add these preferences within its terms. 
How Can an Estate Planning Lawyer Help You?
Understanding how to create a valid estate plan that includes all your needs can be complicated. Luckily, our team at Lobb & Plewe is devoted to helping Las Vegas residents navigate the complex process that is estate planning. If you decide to work with one of our accomplished attorneys, we can assist you by:
Forming a Plan That Addresses Your Unique Concerns
When you form an estate plan, you want it to address all your concerns for the future. Because every estate plan is unique to meet the needs of its creator, most plans are very different from one another. By teaming up with one of our estate planning lawyers, you can work together to form a plan that properly addresses the requests and concerns that are important to you. Whether you want to create a simple will only or you'd like an in-depth plan, retaining an attorney with estate planning experience can help you create a plan that makes you feel comfortable. 
Establishing Wills or Trusts
Forming a will or trust can be confusing when you're on your own, especially if you have no experience with estate planning law. At Lobb & Plewe, we have aided countless clients in creating wills and trusts that protect their assets efficiently. Trusts are generally used while the grantors are still living and transfer the ownership of the protected assets to a trustee. The trustee is then responsible for distributing the assets within the trust according to the grantor's rules and the timeline they set. 
A will, however, is a basic estate planning document that addresses multiple legal aspects if you become incapacitated or pass away. Our adept attorneys can assist you in deciding what the smartest form of asset protection is for you and work to establish a will or trust that meets your needs. 
Ensuring That Your Estate Plan Is Legally Valid
To create an estate plan that is legally recognized by the state, you have to follow a few essential rules. For example, your will is only valid in Nevada when it is physically documented in writing and witnessed by two disinterested parties. In addition to following the requirements for your estate plan, you also have to make sure that your requests are legal and do not address elements that the state can't approve. If you work with one of our probate lawyers, we can help ensure that you create your plan legally and in a way that can be used in the future.
Offering Guidance When You Feel Confused or Anxious
There are multiple elements of an estate plan that can be overwhelming, especially because the decisions you make hold great weight. Our lawyers are deeply aware of how strenuous estate planning can be and are fully prepared to help you navigate the process. We offer compassionate support and strong advice to help you make decisions that can benefit both you and your loved ones. 
Understanding How Probate Works in Nevada
When you pass away, your entire estate must go through a meticulous process known as probate. During this process, the government and any designated administrators will slowly break down your estate. This includes paying off your remaining debts, notifying creditors of your passing, and dividing your assets among beneficiaries.
To have your assets distributed to the beneficiaries of your choosing, you must have an estate plan in place. If you pass away without any kind of will or estate plan, your property will be divided according to Nevada's state guidelines and not your wishes. In most situations, this would result in all your property being given to your spouse.
Probate can be a long, grueling process. It can be even more difficult when your loved one did not have a plan in place. Protect your assets, your family, and your entire estate by creating a will or estate plan with our lawyers.
The Benefits of Creating an Estate Plan in Las Vegas
The estate planning process is advantageous for everyone, regardless of the assets they have or the money they make. If you create a detailed estate plan to discuss your future wishes, you and your loved ones can benefit immensely. Here are just three advantages that come with forming a Las Vegas estate plan with a lawyer:
You Get Peace of Mind
Anxiety about your future can be hard to avoid. However, that doesn't mean that you can't take steps to ease your mind. Forming an estate plan is like taking preventive measures for you and your family's future. By creating one, you can trust that your family and property will still be taken care of how you wish. This ultimately helps to bring you more peace and confidence about whatever your future may hold.
Probate Is Easier for Those Left Behind
If you're still unsure whether you need a will or estate plan, consider your loved ones for a moment. In scenarios where an individual passes without an estate plan, the local government must take over the administrative process. This means that they'll have to distribute your assets according to how the state requires them and not how you may have wished. If you create an estate plan, you can help ensure that your loved ones get the assets they deserve and make probate a smoother process for those who are left behind.
Your Preferences Are Respected After You Pass
Many people have specific requests for both their estate and their funeral when they pass. If you have certain preferences regarding your funeral arrangements, you can list them all in your estate plan. This is an essential element for many people, as having their unique requests in place can also help to bring some peace for the future.
When Is It Time to Start Creating an Estate Plan?
One of the most common misconceptions about estate planning is that you only do it when you're older and have valuable assets. Realistically, estate planning is beneficial to anyone who owns property and can never be done too early. In fact, both 21-year-olds and 71-year-olds can benefit from having an estate plan in the same way. This is because estate plans have you covered if you become incapacitated or pass away, regardless of your age. If you have property or people you want to protect in Las Vegas, it's fundamental that you create an estate plan with the help of an experienced estate planning attorney.
Start Planning for Your Future With Lobb & Plewe
While estate planning can be difficult, it doesn't have to be something that you need to avoid. Here at Lobb & Plewe, our attorneys have devoted their careers to offering superior estate planning support. This allows us to provide our clients with one-of-a-kind legal services that efficiently find solutions to their different issues. We understand how complex estate planning can be, which is why we are prepared to offer you advice, support, and guidance as you plan for the future.
For reliable estate planning services in Las Vegas, don't put off talking to our skilled attorneys. Contact Lobb & Plewe today to schedule a consultation and start planning for your future.
Subscribe for our monthly newsletter to stay updated