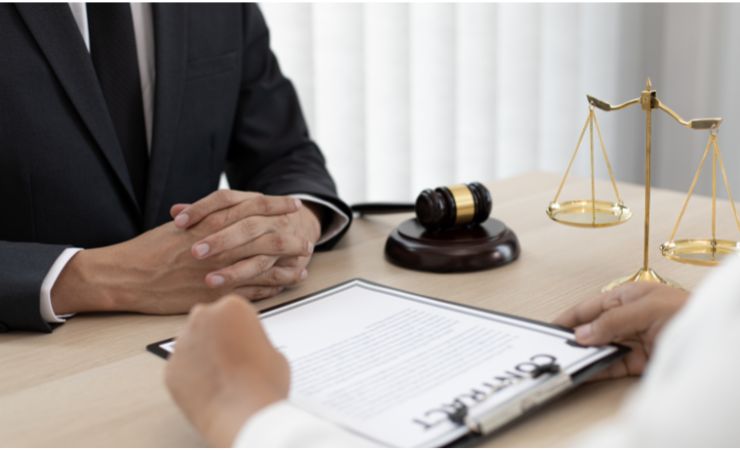 When a legal issue arises, there are a few options the disputing parties have to reach a solution. Two potential methods are litigation and alternative dispute resolution (ADR). Each method has pros and cons, and the best option depends on your specific circumstances and resources. Identifying the correct route for your ideal outcome requires a thorough knowledge of the two methods to solve civil issues.
Litigation
Litigation involves taking the dispute to a traditional court system. The case will be brought before a judge or jury in a court proceeding. Communication during litigation normally occurs between lawyers and typically has a heavy resource load with preparation time, witnesses, and experts. The time it requires to resolve the case depends on the court system and judicial rules. The evidence, the reasons for a decision, and the decision become public record. A decision is guaranteed as a result of litigation, even in a case of a non-negotiable issue. However, the results cannot be predicted because the decision is made by a court-appointed third party.
Some of the key aspects of litigation include:
It could result in an all-or-nothing decision.
It is past-oriented and focuses on the facts.
A winner and loser are determined.
Participation is mandatory once legal action is initiated.
Cases are determined by a judge based on the law and legal precedents.
Alternative Dispute Resolution
Alternative dispute resolution is typically any method other than litigation. It can include mediation, negotiation, and facilitated discussion. The involved parties retain control of the outcome by actively participating in the process. They communicate with each other in a non-confrontational setting to identify the cause of the dispute from their perspective, as well as disclose their needs and interests with the case.
The timeline is centered on each party's schedule and the schedule of the practitioner. The parties have the final say in how the issue is resolved, not the practitioner facilitating the alternative dispute resolution. All negotiations, discussions, and documentation are confidential unless the law requires they be disclosed for public record.
Important aspects to keep in mind regarding ADR include:
It allows for a win-win outcome that was custom-created by those involved.
It is future-oriented and focuses on consensus building.
An impartial and neutral alternative dispute resolution practitioner is present to guide the participants' discussions and negotiations. The practitioner must be agreed on by all parties.
Unless court-appointed, participation is voluntary, and the participants can remove themselves from the process at any stage.
The process emphasizes mutuality instead of self-interest and reconciliation instead of termination.
Why Litigation Is Better
Though both litigation and alternative dispute resolution are methods for conflict solutions, there are a few reasons why litigation can be the better choice:
A solution is guaranteed. A court-appointed third party will examine your case and all your evidence to make a decision. There will always be a conclusion in a litigated case. This is not true of ADR, as either party can pull away from the negotiations or choose not to enter them at all. If one party is unreasonable or if there are many parties that cannot agree, litigation gives the decision to an unbiased third party that can solve the issue.


A wider range of cases can go through litigation. Though ADR is a good choice for some types of cases, many disputes cannot be resolved with that process. Litigation may be better for cases with substantial legal issues or significant credibility concerns. ADR is not equipped to handle these types of issues. Additionally, ADR is not typically appropriate when there is a need or desire for extensive discovery.


The outcome can be more predictable. When a court rules on a case through litigation, it pulls on years of prior legal precedence. This precedence can help the outcome be more predictable. Further, resolving a case in the court system can create future precedence from the case, which may be a desire of an involved party.


The decision can be appealed. Except for a few very limited circumstances, there is no opportunity to appeal a decision that arises from ADR. If your arbitrator makes mistakes or becomes sympathetic to one side over the other, your ability to fix the issue is limited with ADR. Litigation, however, does allow you to appeal the outcome.
FAQs
Q: Is Litigation Better Than Alternative Dispute Resolution?
A: Litigation can be better than ADR for finding a solution to a dispute because it guarantees a judgment. The neutral third party appointed by the court will listen to the evidence presented in the case, then make a ruling based on past legal precedence. Contrarily, ADR offers no such guarantee that a solution can be reached.
Q: What Are the Disadvantages of Using ADR?
A: Alternative dispute resolution requires that all parties enter into the negotiation with a good-faith effort to find a compromise for each party's needs. If a party is not willing to find common ground, the dispute will likely not be resolved without moving to litigation. Further, if one party has a greater resource pool, they can attempt to drag out the ADR discussions and bury the other party in miscellaneous fees related to the conflict resolution.
Q: Is Litigation or ADR More Expensive?
A: There is no simple answer to this question, as it depends entirely on the case. Litigation may be more expensive if a fast solution can be found in ADR. However, you are relying on the other involved parties in ADR to make a strong effort to find a solution without dragging it out and making costs skyrocket.
Q: How Is Litigation Different From ADR?
A: Litigation occurs through the court system and is decided by an entity appointed by the court. It guarantees a legally binding resolution to the conflict, though there is typically a winner and a loser. Alternative dispute resolution occurs between the parties and a neutral party decided on by all the conflicting parties. It does not guarantee a resolution, however.
Litigation With an Experienced Attorney
Though litigation may be a better choice for your situation than ADR, you will still need an experienced litigation attorney like those at Lobb & Plewe, Attorneys at Law. We will stand in your corner and ensure the best possible outcome for your case. Contact us today.